In this article you will find information about:
1. How to send a Telus Health claim through WINK
2. How to cancel a claim
3. How to reconcile when you receive a payment from the insurance
1. SENDING A TELUS HEALTH CLAIM THROUGH WINK
Your customer has benefits that he would like to use towards his eyeglass purchase. You agree to direct-bill to their insurance so they don't have to pay the full amount. Most likely, you (your organization) will receive the money from the insurance.
1. Create your worksheet and invoice as usual, then select your insurance provider in "Primary Insurance":
*no need to enter any amounts in the" Prim. Ins." column.
2. In the Patient Details, enter the insurance details:
IMPORTANT: If the customer is not the main insurance holder (primary is spouse or parent), Add Family Member and enter insurance details for the main insurance holder in "Insurance":


3. When you select the insurer, a new tab should appear next to the invoice tab. In this tab, specify all the necessary claim information. All fields marked with a red asterisk (*) must be filled.
Note: The "Payable To" is generally ORGANIZATION but some insurers will NOT pay the Organization and will only pay the POLICYHOLDER.
Note: You can also add a family member from within the claim details, as shown in the Primary Coverage Information below.
4. To send the claim, click on Insurance at the bottom left of the invoice page: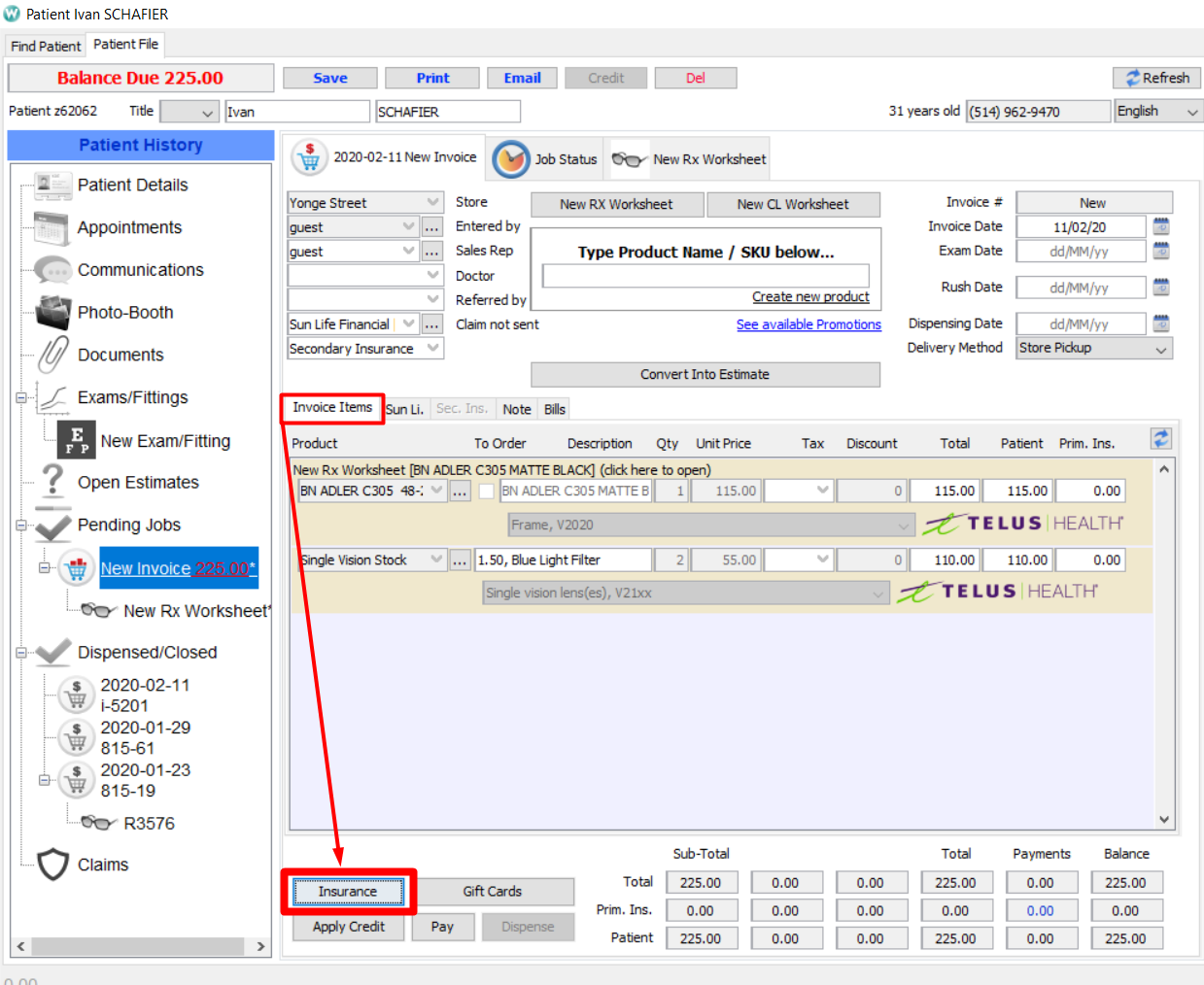 5. The same Insurance button will change to your insurance provider name. Click on Send Claim:
6. Agree to the Telus Terms of Service:
7. Within a few seconds, you should receive your Telus Response (commonly called the Explanation Of Benefits (EOB):
8. IF THE INSURANCE ACCEPTS THE CLAIM, "PRIM. INS." AMOUNTS SHOULD ADJUST AUTOMATICALLY ON YOUR INVOICE. (We recommend that you always verify that the amounts on the claim report matches the amounts in WINK before you finish with your customer)
9. If insurance doesn't cover 100%, click on Pay to take the customer's portion of the payment.
2. CANCELLING A CLAIM
For any reason, if you need to cancel the claim, you can do it within the SAME DAY. Click on your insurance button at the bottom left and select "Send Nullify Request":
Select a reason for Nullification:
You should get a confirmation that your claim was successfully nullified:
3. RECONCILING INSURANCE PAYMENTS
RECEIVING PAYMENT FROM INSURANCE:
Click on "Insurance & 3rd Party"
Click on "New"
Select the insurance provider (Has to match the Primary Insurer you selected on your invoice)
Enter your cheque/direct deposit number in the field "Reference" and choose the method of payment
Click on the "Unpaid Claims" tab
Select and "right-click" on the patient you've received a payment for.
Select "Add to Payment"
Click on the blue arrows to copy expected amounts to paid column
Save
Click here to read more about receiving payments from insurance