Setting up your Outgoing Email in WINK will allow you to send invoices, prescriptions and other communication to your patients.
This is described in detail at the 37th minute of WINK Getting Started Chapter 2. To watch that video, click here: http://youtu.be/UfLh626BLTM
If you are not using GMAIL, click here.
_______________________________________________________
CREATING AND/OR CONFIGURING YOUR GMAIL ACCOUNT
Create a new email account as follows: "StoreName@gmail.com". If the store already has a Gmail account that they would like to integrate with WINK, then you do not need to create a new one.
IMPORTANT SETTINGS: Login to the user's Gmail account >>
Allow Less Secure Apps: click on the user's profile icon (top right of the window) >> Click on "My Account" >>Security>> Under "Allow Less Secure Apps", toggle to the "ON" position >> It should auto-save (please confirm by closing the security page and re-opening it)
Conversation View Off: click on the Gear icon () >> Settings >> in "General", scroll down to find Conversation View>> select the option : Conversation View Off>> Scroll down to the bottom of the page and click on Save Changes

Enable POP and IMAP (only if client has requested integration with 3rd party mail client like MS Outlook): click on the Gear icon () >> Settings>> click on the tab "Forwarding POP/IMAP" >> enable both POP and IMAP>> Scroll down to the bottom of the page and click on Save Changes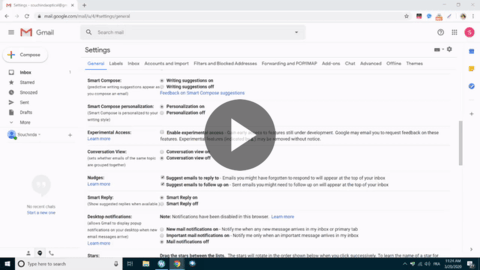 _______________________________________________________
CONFIGURE YOUR OUTGOING EMAIL IN WINK
From WINK's Top menu bar, click on Company >> Stores >> Practices/Stores
Open the location
Click on the Outgoing Email tab
Fill out the following:
Outgoing Email Adress: your Gmail adress
Outgoing Name: your "sender" name. This will be visible to your customers
SMTP Host Name: smtp.gmail.com
SMTP Server Port: 465 / SSL
SMTP Username: your Gmail address
SMTP Password: your password to your Gmail

To verify that your outgoing email is setup properly, click on Send Test Message